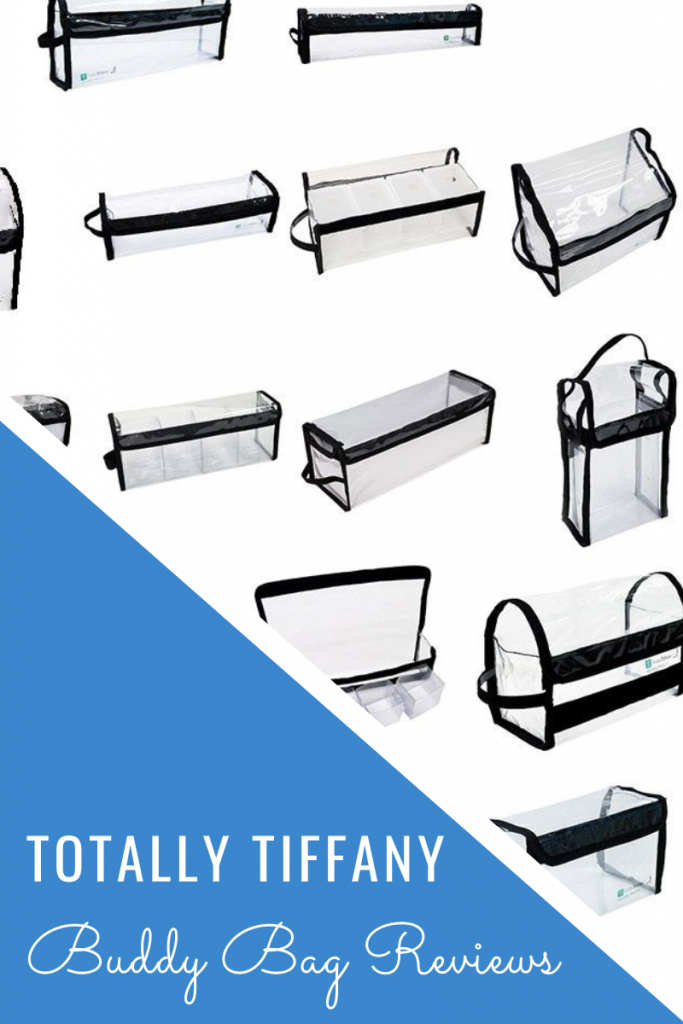 I discovered long ago that the more organized my crafting supplies and tools are, the more productive I am when I sit down to create.
One of the many awesome things that happen when crafters get together is we share with each other all the new goodies we purchase and then become the envy of the crafting table. And other times we can sit across the table from someone and catch a glimpse of something that sparks our interest that we must explore further.
The Totally Tiffany (TT) bags were one of those discoveries for me. I kept seeing my fellow crafters pulling out these adorable little see-through bags that contained lots of goodies inside. In every instance someone shared their little bag with me, they were excited to show how perfectly their "xyz" craft items fit inside the bag. Because the bags come in a variety of sizes there's something that fulfills many crafters' needs.
I was gifted a Buddy Bag a while back and I'm now hooked. These bags are made of strong clear vinyl material and many of them come with a hard plastic box that is easy to assemble which strengthens the container.
According to their site, the Tiffany brand was created in 2003 by Tiffany Spaulding. She needed a way to store all of her items while crafting on her dining room table.
These containers are a great asset to help organize a craft area keeping like items together and at the same time are easy to grab off a shelf/table and fit perfectly inside a tote bag to take to a crop and crafting event away from home.
The TT company has really done a great job in knowing what their customer base wants and needs.
This Totally Tiffany video comes from a Live Stream that was done covering their Buddy Bags. The company has so many different styles and sizes of bags, but I wanted to specifically share the Buddy Bags because of their great versatility to keep all of our craft tools and supplies together and easily accessible.
The above video gives a great overview of how their products work beautifully together.
Below are some independent blog and video reviews that I discovered during my research.
I enjoy shining a spotlight on others who I feel offer good tips, ideas, and training that I think will help you in your crafting journey as well.
Blog Reviews
Review of the Gail Buddy Bag from stamping.craftgossip.com – This review talks about the height of the bag being just the right size for taller items such as ink sprays, and spritzer bottles. There is also a quick video available to view that gives a nice walk-through of many different products that this bag could hold.
Mindy from mycreativescoop.com reviews the Ultimate Shoppin' & Croppin' Tote from Totally TIffany, but does a really nice job of the buddy bags that fit inside of it and how beautifully all the totes keep all of her crafting tools and supplies well organized.
A nice blog review by Jennifer Evens of createoften.com for the Gail Buddy Bag. Jennifer shares that this bag is easy to clean and can be used for a multitude of purposes.
Video Reviews
Lisa Mears Designs video – Lisa does a really nice overview of many of the Totally Tiffany storage products.
Product Review – Totally Tiffany Deanna Organizer – This video review of the Dianna Organizer dates back to 2016 and from my research, this specific bag is not currently available. However, the creator does a nice review. Other Totally Tiffany bags are similar but in different sizes, so this video shows the quality and general versatility of their bags.
The Totally Tiffany company does a great job of demonstrating the versatility and quality of their tote bags.
As you can see the Buddy Bags come in a variety of sizes and shapes to select from. I have not yet discovered how they come up with the bag names, but be assured that I am on the lookout to discover it.
Compensated affiliate links may be used  at no cost to you.