Napkin Art has become quite popular lately. I find it a bit humorous, because I remember doing a form of napkin art with my grandma many, many moons ago. Of course, napkins are now available in a variety of different sizes and have awesomely beautiful art that they didn't have years ago.
This decorative art form has so many different application techniques that you could easily spend hours of time trying to find a tutorial that is easy to follow.
I've curated several videos for your viewing that not only showcase some great projects for inspiration but give a variety of application techniques that will help you get started if you want to venture into this fun and surprisingly simple art. None of the tutorials provided require a lot of different tools so you could easily get started right away.
Curated Creativity
  Learn How To Decoupage Onto Napkins
This is a blog tutorial, but also has a couple of fun videos in the same post using the decoupage technique she teaches.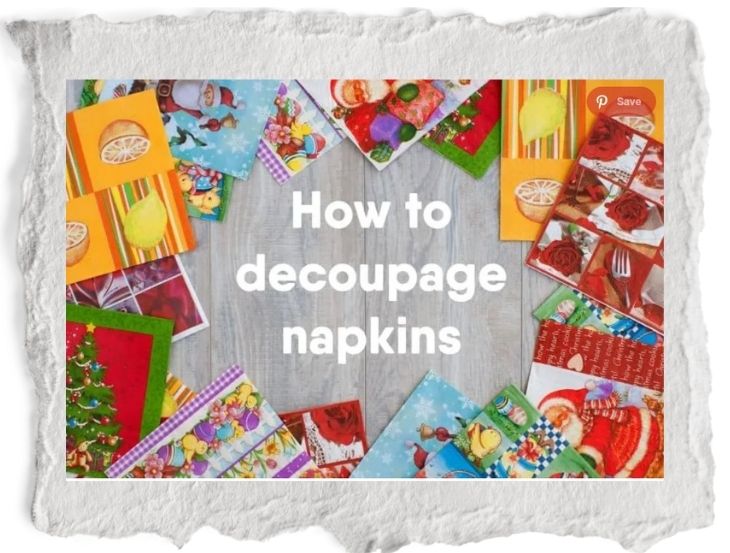 Paper Napkin Transfer Tutorial
This napkin transfer technique uses plastic wrap, parchment paper and an iron. The presentation is easy to understand and has some beautiful project ideas at the end.

Napkin Greetings
Using a napkin and glue stick, this video shows a super quick and easy application process.
Paper Napkin Art
This tutorial shares a really cool process that combines a bit of decoupage and a surprise technique that adds a dimension that you'll have to watch to learn about.
How To Make Cards Using Paper Napkins
I'm not sure what I love more about this tutorial, the amazingly beautiful napkins or the very unique process of using an embossing folder to pinch  (emboss) the napkin and cardstock together.
Embossed Napkin Cards
Using matte gel as the adhesive and then embossing sections of the card front using an embossing folder gives some really wonderful effects.
Glitter Napkin Technique
This is sure to add a wow factor to your napkin card creation by applying Versa Mark, embossing powder, and then sprinkle it with glitter.
Ultimate Glitter Napkin Technique
This glitter napkin technique uses an alternate way to adhere the napkin and glitter to the cardstock base. The secret? Double-sided sticky sheets.
Napkin Cardstock
Creating napkin cardstock to then create larger-sized projects is a new idea to me. I I like this idea a lot. The samples shown in this video are really beautiful.
Time To Get Started
There you have it…multiple ways to adhere napkins to your cardstock bases as well as other project resources. These easy-to-follow video tutorials are sure to give you plenty of inspiration to get you started. Take a look at each of the different options, select which one resonates with what you want to try, and then get started.
I'd love to see which technique(s) you try and what you create, so please share them with me by either tagging your project in the comments area or consider joining my Create Scout Facebook Group Page and share your creation with our community of creatives.
If you find yourself hooked on napkin projects, please check out my Pinterest Napkin Projects Board for even more ideas.