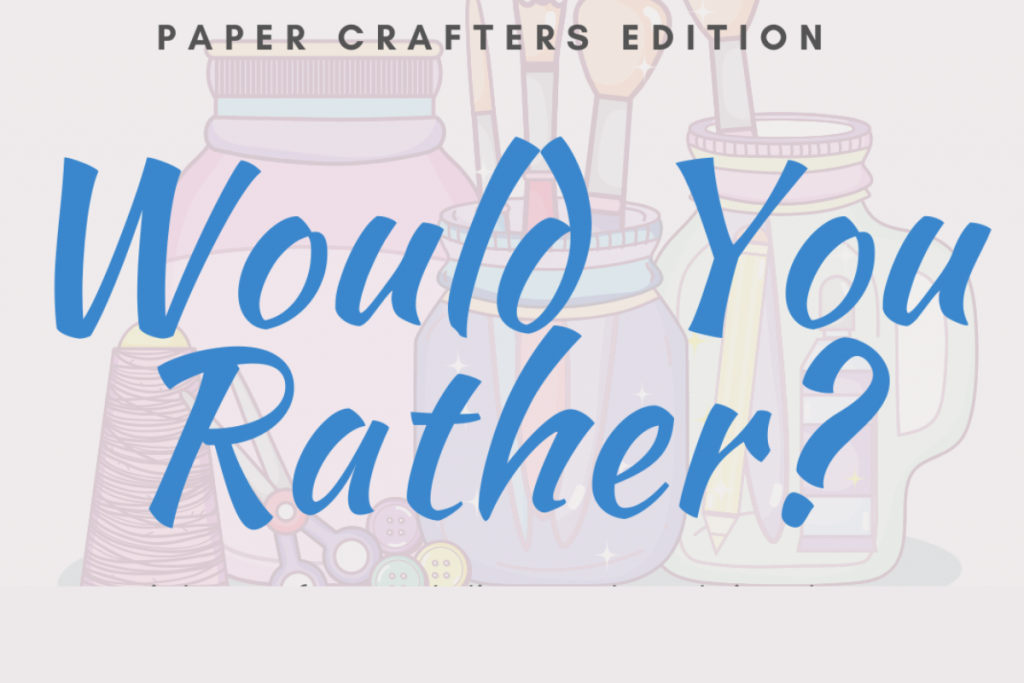 I have always been quite inquisitive. I love to ask questions. Not just to ask questions for the question's sake, but I truly am intrigued and interested in hearing the answers.
To me, the answers often give insights to the individual answering the questions. These answers can show confidence or timidity, bravery or fear, sincerity or silliness.
In the last few years, I have enjoyed playing the Would You Rather Game. This is a fun game where the players answer hypothetical questions.
See why I like this game? LOL!
The questions can be…
Fun and silly offering a great time of friendship and giggles.
Conversation starters to learn more about others.
Critical thinking opportunities to keep our minds sharp.
Ways to keep busy for long car rides.
How To Play Would You Rather
According to wikihow.com on how to play this game, the guidelines and rules are "simple and can be played with anyone, anywhere. You need to have at least two players and a creative mind to come up with interesting scenarios and questions." The folks at wikihow offer a good overview of how to play the game suggesting a variety of different ways to have the most fun with the group of individuals you are gathering with.
There are dozens and dozens of Would You Rather questions and books available online for kids, history, love, silly, serious, history and more. If interested, here is a Would You Rather Pinterest Pin Board for you to look through.
Out of all the fun question themes people have put together, guess what Would You Rather questions I didn't find? I didn't find any for crafters.
So, I decided I would put together my own collection of inquisitive questions.
Thanks to some dear friends (Tracy, Robin, and Christine) we came up with some fun questions that we had fun gathering together.
Introducing…
Would You Rather – Paper Crafters Edition
I think this would be a super fun icebreaker for crafters who get together either in-person, online or as a way to begin a crafting retreat.
The aim of this version is to have fun and share lots of giggles.
Each player answering the question must choose an option. No player can say "both" or "neither".
Explain the reasons behind your decisons OR would you rather not share why you feel that way? See what I just did right there? LOL
But really, do share your decisions, because part of the fun comes in to play when we can learn and understand different points of view.
If another player disagrees…have fun trying to convice each other why your answeris better.
These questions are probably not as extremely thought-provoking as some of the other question themes you might come across, but they are intended to create conversations and quite possibly offer insights into a way of thinking that you may not have thought of before.
Would You Rather…
Craft alone OR Craft with friends?
Create in silence OR Create listening to music?
Liquid glue OR Double sided tape adhesive?
Glitter on everthing OR Never use glitter?
Snack of your choice while crafting OR Only eat before or after you finish your crafting session?
Fussy cut all of your project pieces OR Only be able to create using dies?
Markers OR Colored pencils?
Make mini albums OR Make scrapbook page layouts?
Only make cards with a traditional fold in the middle OR Only make fun and fancy fold cards?
Washi Tape Or Ribbon?
Put bling on every project you make OR Never use bling?
Make pretty bows using twine OR Make a bird's nest of twine (lay and adhere twine in loose circleson card front?
Use Brads Or Eyelets?
Use Tweezers OR Use a Gem Pick
Clean up your craft area completely after finishing a project before starting on your next project OR Keep crafting even if your crafting area is a hot mess?
Use a guillotine paper cutter OR a slide trimmer?
Distress all project edges OR Never use distressing techniques on projects?
Use stickers OR Never use stickers?
Scissors OR Craft knife?
Make your own handmade ephemera OR Buy Ephemera from the store?
Purchase a Cricut OR Purchase a Scan N Cut?
Use a manual die cut machine OR Use an electric die cut machine?
Use a Crop o dile to make holes and set eyelets OR Use a hammer and chisel to make holes and set eyelets?
Make clean and simple cards OR Make involved / detailed cards?
Make colorful cards OR Make cards with monochromatic tones?
Pocket Protector sheets OR 12″ x 12″ page protectors?
Simon OR Tim?
8 1/2″ x 11″ scrapbook page layouts OR 12″ x 12″ scrapbook page layouts?
Pigment ink OR Dye ink?
Blending with brushes OR Blending with daubers?
Chocolate while crafting OR Gummies while crafting?
Digital journaling OR Handwritten journaling?
Digital scrapbooking OR Physical picture/paper scrapbooking?
Decco foiling OR Hot foiling?
Virtual scrapbook show OR In-person scrapbook show?
Heat embossing OR Embossing with embossing folders?
Alchohol while creating OR No alcohol while creating?
Shutterfly photos OR Snapfish photos?
Bearly Art Glue OR Art Glitter Glue?
Michaels OR JoAnn's?
Scrapbook Cards Today magazine OR Creative Scrapbooker magazine?
USA crafting styles OR UK crafting styles?
Slimline cards OR A2 cards?
I hope you have fun using these Would You Rather questions with your paper crafting friends.