For many people the 2020 Thanksgiving Holiday will look a bit different than prior years due to being requested to limit travel and how many people they celebrate with.
I am likely not alone when I say…This totally sucks!
Choose How You Gather and Who You Gather With
If you chose to stay home and have a quiet time to celebrate what you are grateful for or choose to travel and spend time with family or friends outside your immediate household this year. I wish you well.
Technology Gives Us Many Opportunities To Connect
If you have opted to stay home this Thanksgiving there are still many ways you can connect with other loved ones. I am thankful for technology that allows many to connect with family and friends throughout the year and especially at a time when it is difficult to meet up in person. There are many virtual ways to connect with one another these days.
Phone: old fashioned I know, but it still works beautifully
Online Virtual Conference and Meeting Entities: this year the world has been introduced to many online connection tools that have regularly been used by business entities to connect together. However, 2020 out of necessity, has introduced these virtual connection spaces with all genres.

Zoom
Google Meet
Google Hangouts
Facetime – Facebook
Messenger chat
Skype
Military.com has put together a nice list of 5 ways to virtually connect with family this Thanksgiving. Some of these ideas I've never thought of before and I have to say: I love these ideas.
Sadly, our military men and women have been probably virtually connecting during the holidays, for many years.
 
Virtual Thanksgiving Ideas
I have curated a list of sites that offer a variety of ideas and activities that you can do to celebrate the holiday together, even if you are miles apart.
Some of the ideas may be similar, but I think there are enough differences in each posting and feel you will find multiple ways to help make your day of gratitude special.
The first two listed posts are from collogues that I have the pleasure of learning from in a business mastermind group I participate in weekly. I love what they have put together and happily share their ideas with you.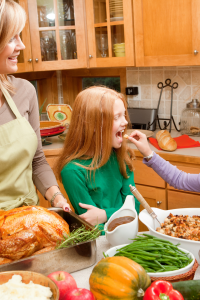 Helping Parents Parent
Dr Renee offers sage advice and ideas on how to interact with kiddos during this "not so normal" Thanksgiving season. These ideas include how parents can help ease the stress of things being different and focus on things that bring laughter and build memories. She has a true heart for helping parents and kiddos connect together.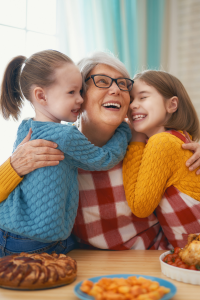 True Clarity 4 You
Brenda Smith offers ways that grandparents and kids can connect together. In this post she offers a great 7-step instruction sheet (pdf download) on how to use Zoom if you aren't already familiar with how to use that gathering platform. I'm especially  excited about the fun Family Memory Game that she provides as a download for. This game is a series of questions that each person can ask that can easily be played virtually or in person. Go grab your download today.
Parent Map 
Virtual Thanksgiving: 8 ways to connect this Thanksgiving season
Simple ideas to spread holiday cheer and be together with family and friends
L.A. Parent
Four ways to connect this Thanksgiving
This post provides a quick read of ideas you can use without a lot of planning
Cafe Mom
15 Creative ways to celebrate Thanksgiving if everyone can't get together.
Creative and clever ways to keep the spirit of giving and gratitude alive.
In-Person and Virtual Ways to Celebrate Thanksgiving Gratitude
The following site posts were written in 2019, but provide some good ideas to be mindful of.
The Family Dinner Project
New ways to connect at Thanksgiving (and beyond)
Great ideas on the importance of gathering around the dinner table everyday of the year, but especially during a special family Thanksgiving.
Relational Wisdom 360
10 ways to connect deeply at Thanksgiving
Provides a very special way to share gratitude by requesting attendees to tell a story about a person God placed in your life …
Now, this is a for sure way to connect deeply.
Parents-Together
Create connection around the Thanksgiving table
This post gives a unique take about how the hostess/host of the Thanksgiving meal can foster their own self-care during what tends to be a stressful day of making sure everything comes together.
As mentioned earlier, however you choose to celebrate Thanksgiving 2020, by either staying home or traveling, I wish you a a day and a lifetime of things to be grateful for.
Blessings and Hugs,
Lynn