Do you have cards you have made or collected over the years that are sitting in a box?
I have taught and taken oodles of card classes over the years. On top of that, I have also done a lot of card swaps as well. For those who may not know what a card swap is, it's where multiple card makers make a designated amount of cards and swap them with others who have done the same. The receivers of these beautiful cards are able to be inspired by what others create.
That said, one of my goals in this new year is to take intentional action steps to organize and downsize my craft goodies. In that process, I came across my stash and collection of cards I have made, created, and swapped over the last many years. Let me just say that there is a very large container of beautiful cards that have been been sitting in my craft room and need to be shared with others.
I definitely know that there is a lot of work and love put into the process of making cards and have decided I want to share this hard work and love with all of you who come to my blog looking for inspiration. I will be taking pictures of many of the cards and sharing them with you, giving credit to the creator if they provided their name with their card.
As I share these it is my desire to point out some specific points of interest on the cards to offer simple tips that might offer you some ideas and to inspire you.
Flowers
Out of the many cards I had to select from I decided to showcase three flower themed cards. As you will see, these cards are beautiful yet when you dissect them and look at how they are made, you will see that they are easily replicable using the stamps, inks, cardtock and elements that you already have in your crafting stash.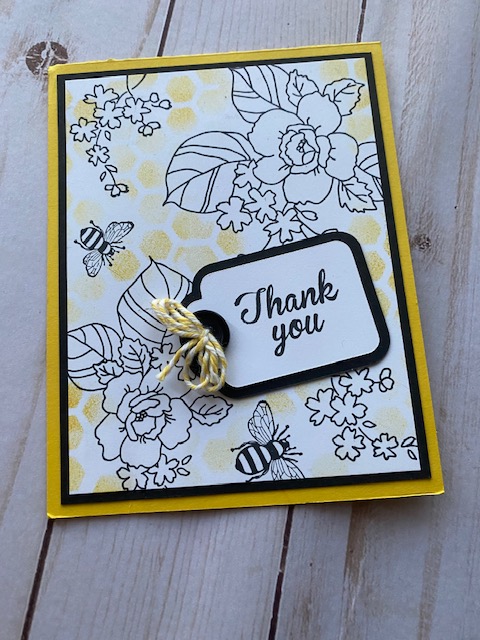 Quick and Easy
Stamp or stencil background image on the top card panel.
Stamp focal images on top of the background image using a prominent color (the black ink on top of the yellow/gold honey come image is a great contrast).
Place (pop up) sentiment piece on the card front. This can be a basic cut piece of cardstock or as shown in this card, select a tag die to give a lovely accent.
The black button adds a nice finishing touch for the bow to be placed on.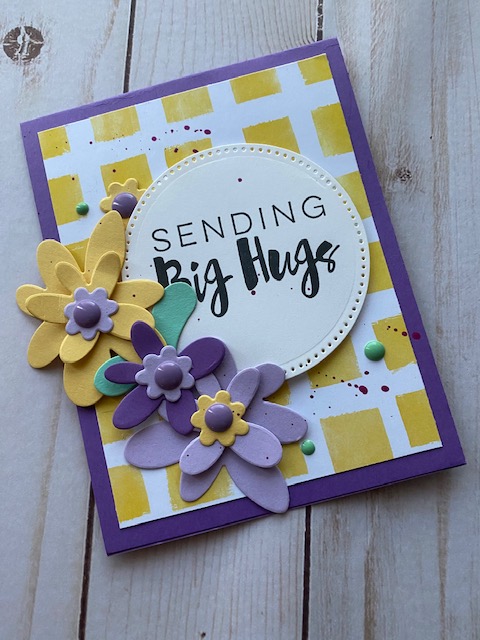 Squares, Circles, and Flowers, Oh Yes!
This card has a nice combination of design features.
I love that they combined a background stamp with squares and the stiched circle die element which always offers a nice added feature. The simple flowers and quirky sentiment used make for a card that will surely bring a smile to the recipients face.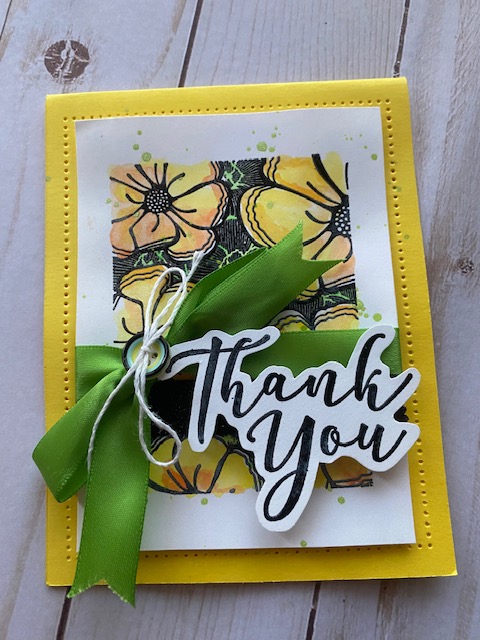 Beautiful Design Features – Easily Replicable
The background flower image was stamped and embossed with black embossing ink to make the flower image bolder.
The flowers could be colored with any coloring technique you desire.
Notice the rectangle stiching around the flower panel and how it gives a nice accent to the completed card.
The button and additional twine bow is also a nice accent, but the green bow by itself could easily make this card still stand out.
I especially like that the sentiment has detailed cutting. Of course you could use a die if the stamp has one available, but this sentiment was fussy cut around all the edges.
Accent features: a bit harder to see but just underneath the ribbon bow and sentiment there is a strip of black washi tape. Also the splatter of ink in a contrasting color adds a fun accent as well.
Your Turn To Create
I hope you are inpisred to use these design card sampes in your next card making projects.
Time That These Cards Are Enjoyed By Others As Well – They Will Get A New Home
For whatever reason, I have been hanging on to these beautiful cards in some cases, for years and it is time that others get to enjoy them as well. After they are posted, I have decided that in my efforts to organize and downsize a bit that these cards will be on their way to new homes.
There are many great service organizations and groups that accept cards to be donated for Veterans across the world and for Senior homes.