Tips on Choosing A Word of the Year to Guide Your Endeavors in a New Year
The concept of using the One Word concept instead of setting traditional goals in the New Year is simple. It's about ditching the long list of resolutions and concentrating on one thing throughout the year instead of being overwhelmed and doing nothing about too many things.
It's about choosing just one word that represents everything you want to focus on for an entire year. Focusing on one single idea gives you more clarity.
Choosing your Word of the Year isn't just about checking off yet another goal from your long list of resolutions. It's about selecting a word that embodies what will give you joy in the coming year can help focus both business and personal goals.
Have you already taken steps to come up with One Word that will help you become a better version of yourself in 2021? Or, are you struggling and not yet sure which word brings you pure excitement as you enter into the months ahead? If you have already selected your One Word, Great job!
If not, no worries, it's not too late to find the right word for you. There are many resources online to stir your imagination and help you determine that One Word that will inspire you all year long.
My One Word for 2021
The word I selected for 2021 came to me in an unusual way. I was watching a movie from Amazon Prime called: Miracle Maker. Though it's under the Christmas movie category, it's message is inspirational all year long.
Without giving away the premise of the movie (you'll have to watch it yourself), it had a beautiful story to tell with a message that I wasn't expecting. In the end, it was the message that spoke to me. It made me wonder how and what I do impacts others. It made me wonder about how precious simple kindnesses are and realizing once again that everyone has a gift to share. It made me wonder what I could share with others that could impact the lives of my community of crafters and those I care about.
After watching this movie, my One Word came to me as a word of inspiration. I took the word that rattled in my head and looked up the definition to see the full meaning of its presence. After that…I was sold!
In case you are wondering my One Word for 2021 is, it's: Wonder 
Definition:
Used as a verb (used without object)
to think or speculate curiously: to wonder about the origin of the solar system. to be filled with admiration, amazement, or awe; marvel (often followed byat): He wondered at her composure in such a crisis.
Used a verb (used with object)
to speculate curiously or be curious about; be curious to know: to wonder what happened. to feel wonder at: I wonder that you went.
Used as a noun
something strange and surprising; a cause of surprise, astonishment, or admiration: That building is a wonder. It is a wonder he declined such an offer.
the emotion excited by what is strange and surprising; a feeling of surprised or puzzled interest, sometimes tinged with admiration: He felt wonder at seeing the Grand Canyon.
miraculous deed or event; remarkable phenomenon.
I'm excited to see where WONDER will take me in 2021.
Selecting and Committing to Your One Word For The Year
Having just the right word to become a stronger, more confident, action-oriented person can help you in all areas of your life.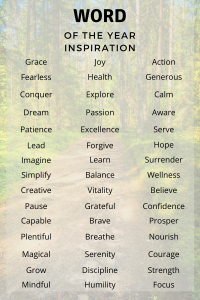 The perfect word can light a fire inside you and inspire you to do exciting things in the months ahead.
Take a look at this word list.
Is your One Word on this list? Is there a word on this list that you'd like to take and use as your own? Then, permission granted…it's yours to use.
What lights your fire?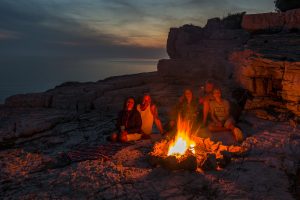 Think of your One Word fire like a campfire. If you do all the work to select just the right word and don't tend to the fire it will fizzle out. If you don't tend to your commitment to your One Word or keep your eye on it, it will fade away as well.
Too often we set ourselves up for great things at the beginning of the year and one or two months later find ourselves amid a myriad of distractions. So frustrating, right?
When we veer off our path, it can create a sense of being defeated and possibly limit our ability to focus on what we desire.
So here and now, let's name the resolution struggles so that they do not sneak upon us.
Find Out a Bit More About the One Word Movement
The One Word movement has been around for many years. You can find out more about it with a bit of research. Authors Mike Ashcraft and Rachel Olsen wrote the book My One Word: Change Your Life With Just One Word in 2012.
Their principles outlined in the book help solidify why switching from creating and writing down goals to selecting one word to concentrate on can alter the way you can inspire and motivate yourself to stay the course and become stronger, more confident, and focused.
Keeping the Word Selection Process Simple
I really like to make things simple. So, in searching around to get ideas on how others select their word of the year I came across Elizabeth Rider's blog on the subject. She shares a very simple process that she suggests making your word selection easy:
Elizabeth says:
Grab a piece of paper and make two columns. write…

Review the side that lists what went well. How do these things make you feel? What do you want more of?

Choose one to five words that really speak to how you want your year to feel.

Review them all together, then narrow it down.
Check out Elizabeth's blog post for the details.
Can you relate to any of the challenges below?
Have you ever set yourself a goal or decided to concentrate on your chosen One Word for the year and then months later it drifted from your mind?
Did you wish your One Word had more flair, pizazz, pop, fun, or made you happy every time you looked at it?
Have you struggled to keep your One Word top of mind throughout the year? Did it go 'out of sight, out of mind' and lose some juice/meaning for you?
Was your One Word written in a  journal or notebook in January and you never looked at it again?
If you can relate to any of the above questions, guess what? You aren't alone.
How To Keep Your Word Alive All Year Long
There are three important things that you can do throughout the year to keep your fire burning bright for your One Word inspiration.
Embrace and commit to your word – The word you select must truly get you excited. It should drive enthusiasm and action in all areas of your life.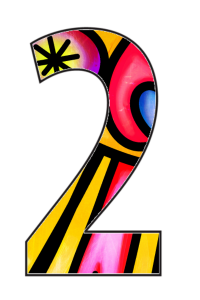 Make your word visible in a prominent place – by your bed, in your bathroom, on your mirror, in your daily planner, or incorporated into a piece of art.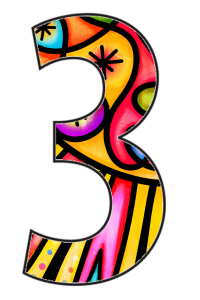 Be intentional every morning with respect to your word. Reflect each night on how you showed up. Celebrate your wins. Learn from your challenges.
I like to craft and create something special using my One Word.
Creating around my word helps me reflect more deeply on my choices and allows me to create something that will keep me inspired throughout the year. This annual activity keeps me fired up and excited about what I want to create more of throughout the coming year.
I am planning a workshop around crafting my word for the year.
Interested? Then, please keep reading.
Wouldn't it be great – and more meaningful – to have your One Word stand out and be something visually inspiring?
I have an annual crafting activity that I've been doing for years.
Each year I Craft My Word.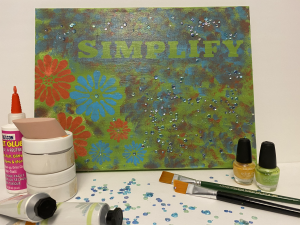 After deciding what my One Word will be, I create a canvas artboard using my word. I use a variety of simple and readily available art tools and mediums.
The act of creating the piece solidifies my choice and gives me an art piece that displays my One Word front and center, reminding me of my daily focus and intention throughout the year.
You don't have to be "an artist" to do this. Anyone can tap into creativity to craft their word.
There are many creative ways to make a unique art piece that you can be proud of, using your One Word.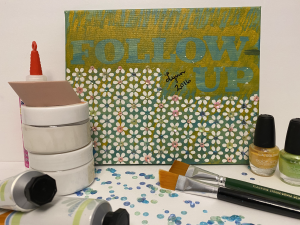 -draw your word – bring it to life by using colored pencils, markers, and even crayons
-decoupage your word – use glue and a variety of different papers and ephemera
-stamp, stencil,  or paint your word – Oh yes, the options are endless
-mixed media – add depth, interest, and variety to your art piece
Need help creating your One Word art piece?
Want a supportive crafty friend?
I am offering a Craft Your Word workshop in February 2021 and would love to create with you. Just click the picture for more details: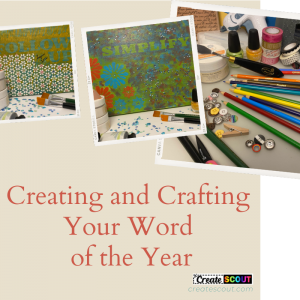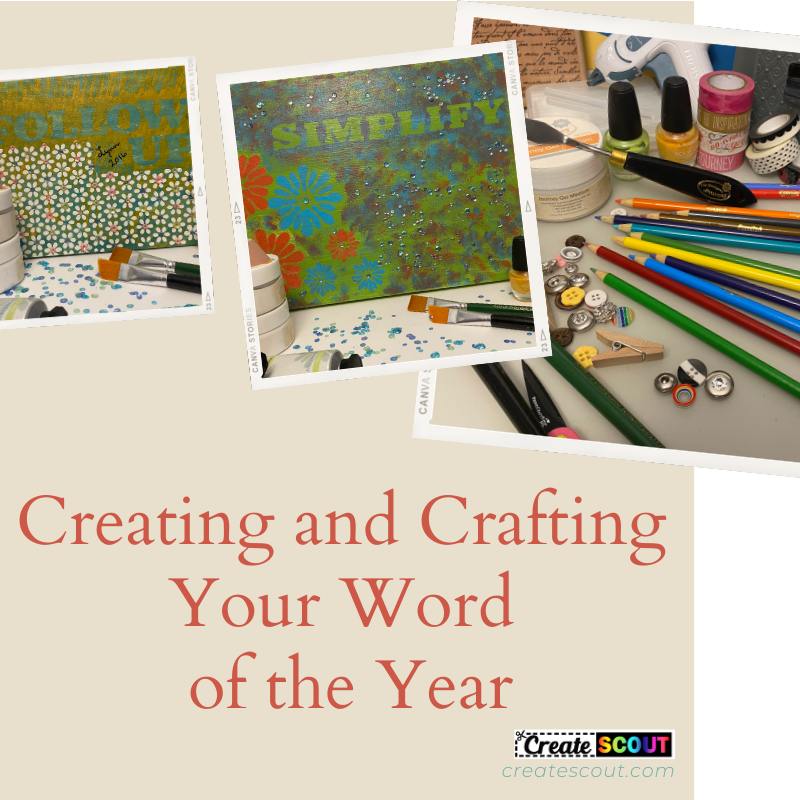 Happy crafting and thank you for visiting,
Lynn