Crafting a Kinder World One Surprise at a Time

Have you ever…
Held the door open for someone you didn't know?
Given $$ or any assistance to a person in need?
Brought a co-workers favorite snack to them to lift their spirits after a tough day?
Visited a sick friend to help cheer them up?
Given an extra big tip for the really good service at a restaurant?
Helped anyone change a flat tire?
If yes, how did it make you feel?
After you took the action, how did you feel? Did it make you happy, loving, connected to others, or proud?
When I recall the moments in my life that I took the time to do a small random act of kindness for someone in need I felt full of energy and in some instances a bit invincible. That may sound like a bit of a stretch, but there is something that happens to us when we help out someone out of the kindness of our hearts. It is pure joy!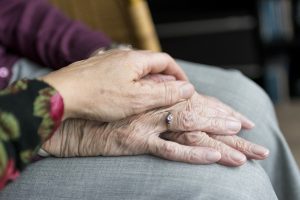 Full disclosure…
Now, I admit that I have not always been "prepared" to help out in some cases. I haven't always had change in my purse for the person in need and I may have accidentally let the door shut when someone was right behind me (though I work very hard to be consciously aware of this one), and I have never helped change someone's flat tire. Heck I don't even know how to change my own tire (but I digress).
When cultivating acts of kindness in your life, it is helpful to remember how generous acts from others have affected you.
Have you ever benefited from someone's kindness in the past?
Heard a kind word at just the right time?
Received a card expressing support or love?
Saw a stranger smile at you?
Had someone listen to you as if you were the most important person in the world? How did it make you feel?
As a recipient, did you feel remembered, cared for, connected to others, happy? It is interesting that some of the same feelings are felt whether you are receiving or extending kindness!
Would you like to see a kinder world?
The Random Acts of Kindness movement is a beautiful way for people to demonstrate their caring of friends, family and strangers, by doing something special in the moment. It takes people like you and me to extend a helping hand.
But, is it enough? Can we do more? Yes, we can! Being conscious about the effect of kind acts and intentionally choosing to reach out to others will spread goodwill and bring joy to our own lives. Our efforts would have a ripple effect. Surrounding communities would be even more beautiful if we, individually are more intentional in our Acts of Kindness day by day.
Being intentional in our kindness efforts takes just a little planning.
As a lifelong crafter, I have found a simple, quick and fun way to share kindness with others by making simple projects and have readily available to gift to others, so I'm not caught off guard when someone needs a bit of kindness in their life./ I call these projects Random Crafts of Kindness.
With Random Crafts of Kindness, the world can be a happier place. Being creative is relaxing and has many personal benefits. When I am making simple projects and gifts for others, I become more peaceful and am less stressed. Creating these simple projects for others is a wonderful opportunity to be intentional about kindness crafting and also reap the enjoyment and benefits from the creative process.
Being Intentional about Random Crafts of Kindness
It's fun to think ahead and craft for the possibilities of kindness that will cross my path.
I create Kindness Cards to carry with me throughout the day. They have a sweet message and help me be prepared to give a friendly boost to someone who needs a special note of encouragement.
I also create Kindness Tags for simple gifts and tuck them away with my ribbons and gift wrap. They each have a sweet sentiment to give at a moment's notice. Kindness opportunities often come up unexpectedly so it is important (and very helpful) to be prepared!
I have lots of fun, easy projects for you in your role as an intentional Kindness Crafter. Join me in our mission to make the world a kinder place.
Create Scout just released a new offering for Kindness Crafters
The Random Crafts of Kindness project was created to give busy people a simple, fun, and creative way to extend kindness to others through simple crafting projects:
When leaving the tip for your waiter/waitress, including a Kindness Coloring Card with it.
When gifting a simple gesture of kindness, why not add a handmade Kindness Coloring Tag to your gift?
Paint happy sentiments on stones and leave them in random places to be found by others. (This one is a GREAT family-friendly project).
What if there were a fun and creative way that you can reduce stress through crafting, enjoy a family-friendly activity, and bring joyful surprises to others? This is what Random Crafts of Kindness is all about. Spreading joy, one craft at a time.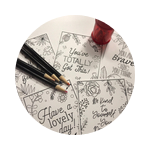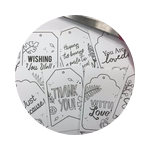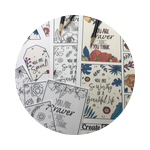 Understand the wonderful personal benefits of crafting.
Learn about the unique benefits of giving your Random Crafts of Kindness to others.
Begin giving right away with digital projects, instructions, and inspiration.
Simple projects that are, well, simply beautiful, family friendly, and warm the heart.
What's Included?
You will receive all of this in your digital download:
Random Crafts of Kindness Guide: Covers the power of making items with the intention of giving them to others. (PDF)
Random Acts of Kindness Guide: Covers the importance and power of sharing kindness with others. (PDF)
Coloring Kindness Cards: 5 beautifully designed printable black and white cards with kind sentiments, ready to be colored (Download, print, color). Grab an inexpensive set of coloring pencils to color, relax, and spread kindness. (PDF)
A BONUS download: The same cards in full color are included for those extra busy days when coloring is not an option. (PDF)
Kindness Tags: 9 printable black and white gift tags for an adorable addition to an act of kindness to friends, family strangers alike. After making (Download, print, color) these tags, attach them to a simple gift of your choice for someone who needs a touch of kindness. (PDF)
A BONUS download: The same tags in full color are included for those extra busy days when coloring is not an option. (PDF)
Crafts of Kindness Tutorials: Full color step-by-step tutorials of additional inspiring craft ideas to create as gifts to surprise and spread kindness in your corner of the world (PDF)
Random Acts of Kindness: List of Possibilities: This huge list of Random Acts of Kindness that you can write, say, do and create will help you be more mindful and intentional in your acts of kindness. (PDF)
Be Nice – Strategies to Increase your Kindness Factor: Learn the benefits of creating Random Crafts of Kindness. (PDF)
This is a digital product and all documents are in PDF format.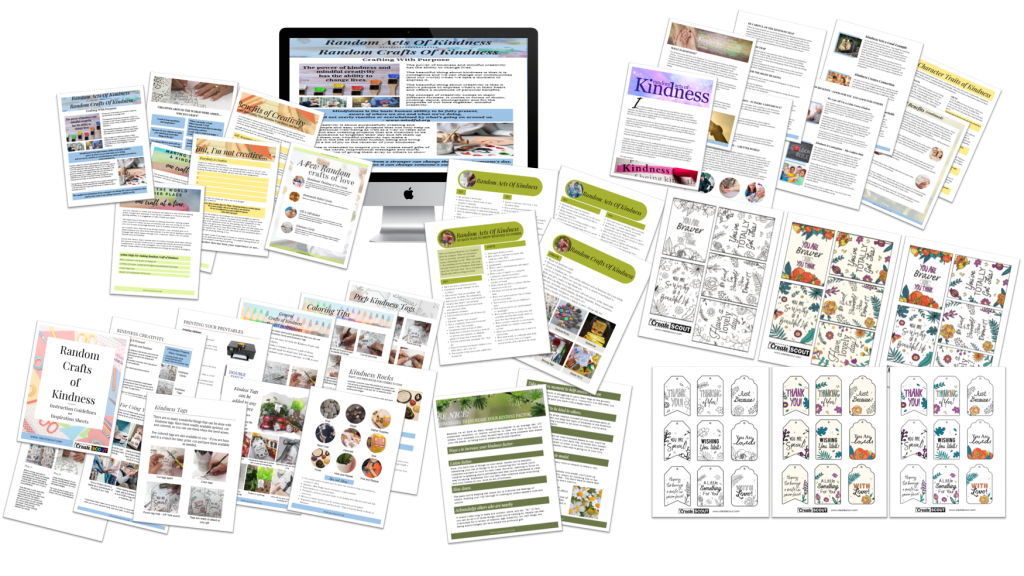 So how much will all of this cost? Simply…
Get your copy of Random Crafts of Kindness Today!
Yes, Lynn I Want to be MORE INTENTIONAL in my efforts to bring happiness to others with Random Acts of Kindness and Random Crafts of Kindness.
Brought to you by: