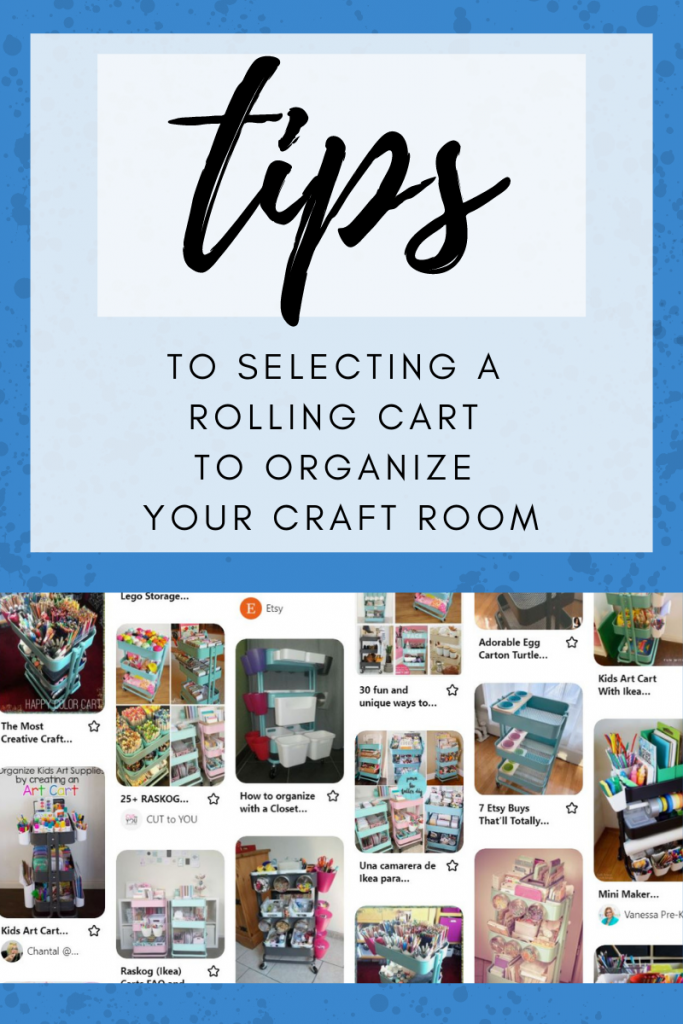 Getting organized is a year-round desire of many and it is especially a hot topic at the beginning of a new year. Likely because of the resolutions made by those who resolve to themselves to get organized.
With the new year comes lots of good deals on organizational containers. Lots of tools are available (year-round) for the crafter to get themselves organized and to help them become more productive and happy creators.
I enjoyed reading an article from refinedrooms.com about the 10 key benefits of being organized. Of course, all 10 of the benefits are valuable to keep in mind, but for the purposes of our craftiness, there are 3 benefits that stood out to me that getting and being organized could help us in our creative life.
Reduces Stress
"Once you begin to clear clutter and put organizing systems in place, you'll feel lighter and more in control of your life. That peace of mind you've been craving can finally be realized."
– refinedrooms.com
Makes You More Productive
"Putting some simple organizing systems and routines in place enables you to get more done in less time."
– refinedrooms.com
Enhances Creativity
"You gain clarity and experience a surge of physical and mental energy that opens up opportunities for your creative spark to ignite."
Makes You More Productive
"Putting some simple organizing systems and routines in place enables you to get more done in less time."
– refinedrooms.com
The process of organizing a craft room can indeed be overwhelming, so for our time together today I thought it would be fun to start with a very simple step. I'm talking about organizing a small section of your crafting area that allows you to access the essential tools and supplies that can help with your creative productivity.
Rolling Craft Carts
I remember when I was first introduced several years back, to a little rolling cart that had been perfectly organized with little trays that allowed for the essential crafting tools to be ready and at hand when needed. It had wheels that made it perfect to roll right next to the crafting table or even roll it to an area that had limited space.
I immediately knew that this little cart on wheels could somehow add some happiness to my frustration of being a bit unorganized or able to find things when I needed them. I was in love.
These carts can certainly be used in any room in the home. I now have many rolling carts throughout different rooms in my home and very specifically in my craft room.
I am always inspired by how others make use of the purchases they make and this little cart is no exception. I have a fun Pinterest Board just on Rolling Craft Carts alone.
If you'd like to get inspired as well, please check it out.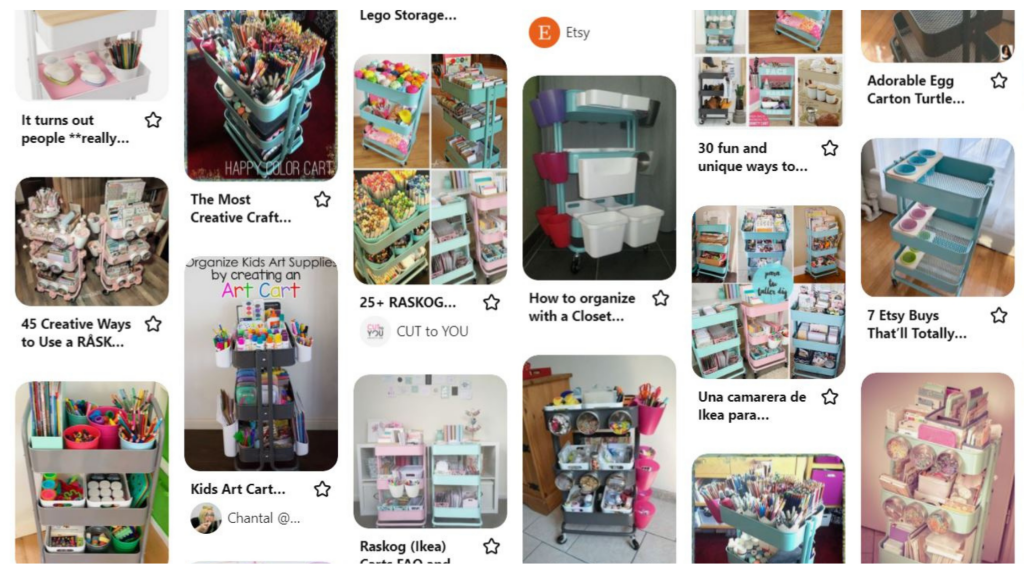 Selecting Your Craft Cart
Since that moment in time several years back, that little rolling cart is now readily available at many of the crafting retail stores. Of course, there are many different rolling carts that are now available to organize all of our tools and trinkets that so desperately need to get organized.
Many retail stores now have this readily available to purchase.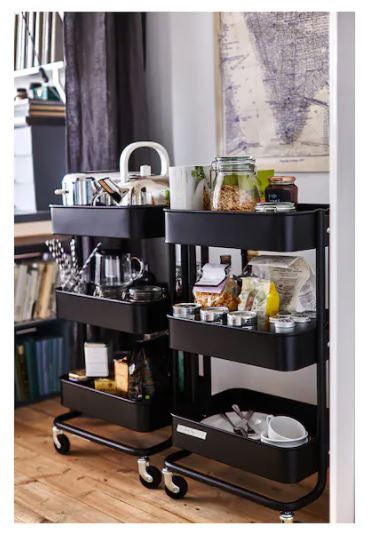 ikea.com
I believe Raskog from Ikea was the original rolling cart that I was introduced to and it is still a top seller.
michaels.com
The Lexington 3-tier Rolling Cart by Simply Tidy is the brand I now have purchased. It is considered a special buy purchase and is not available to be purchased using a coupon, but it is at a really good price point all the time. I like that Michaels has a variety of different rolling cart brands in multiple sizes and price ranges.
amazon.com
It's likely not a surprise that Amazon has carts that you can easily purchase and have delivered directly to your door (though other companies have delivery as well). Amazon is not always the least expensive, but it does have a very nice selection to choose from to either do research all in one place and or to pick one up that you can't find elsewhere.
target.com
Many of the options available at Target are only available for shipping. That doesn't mean it needs to be a deal-breaker, because often you can get free shipping.
homedepot.com
Don't discount home improvement stores to locate a cart that will work well for your needs and your budget. Though I am mostly pointing out the smaller craft carts, I enjoy using an actual tool cart as one of the carts I have in my craft room, because of the drawers and layout it has available. And because I told my husband I needed the one he had in my craft room and he loves me enough to say yes. LOL!
Doing a little bit of research with your needs in mind will help you to pick out the best rolling craft cart for your needs.
Organizing Your Cart
If you are either re-organizing a cart you already have or starting to fill a new one for the first time, it's important to have a plan so it doesn't get messy quickly. That's not to say that, that won't happen in the future, but just putting things in the cart without a plan will only lead to still being unorganized.
There are so many little things you can do to keep your cart in order.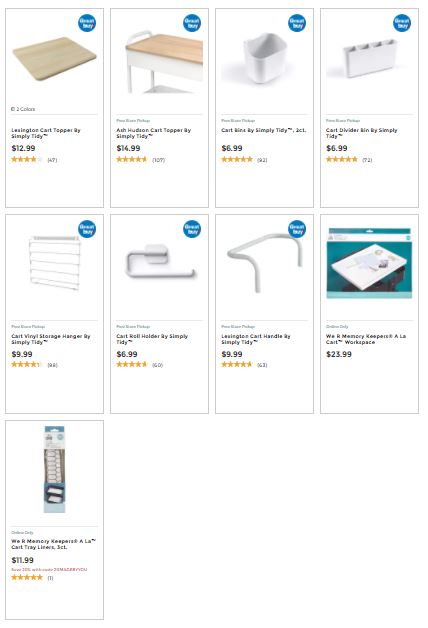 Cart Accessories
Since these rolling carts have become so very popular there are many cart accessories that can be found that are specifically made to attach to the carts. Take a look at them. They can really go a long way to help keep you organized. You can see a lot of great examples if you look at the Pintetrest page I created and posted earlier that showcases many of these add-ons.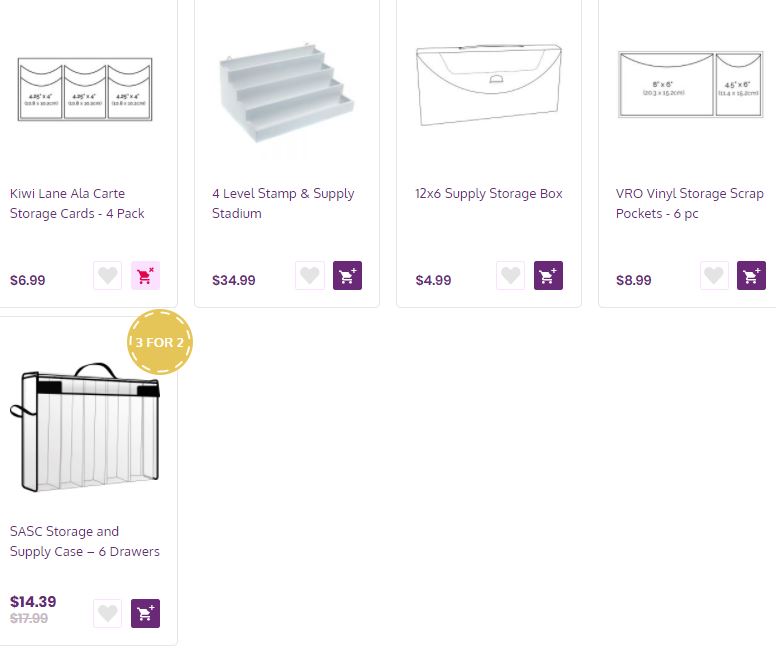 Organization Tools
Totally Tiffany is a wonderful place to find little carrying castes and more that can host your pencils, washi tapes, and more that would make it so easy to place into your cart and easily retrieve them when needed.
Jars, Mini Totes, And More
I've seen oodles of ways you can keep your rolling craft cart organized. Using baby jars, little bags, pencil holders, totes etc. All of which can be found at almost any shopping outlet. Because the carts are metal you can also find fun tins with magnets on the back that can simply attach to the outside of your cart to give you even more space.
The important thing is, is to keep like-minded items together and not rolling around. You want to be able to easily access all of your items when needed.
Whether or not you already have a rolling cart that you are using in your craft area or are looking to add one or more, I hope these tips inspire you to get your craft space organized.