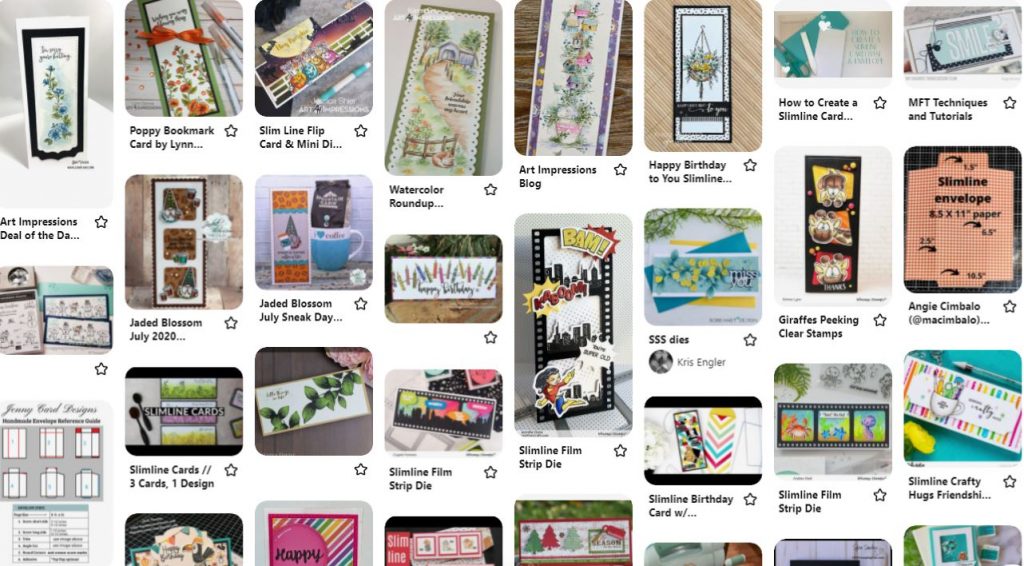 One of the hottest current cardmaking trends these days is making slimline cards. They are called slimline cards because of their tall and slender, vertical or long size.
The standard size of a US A2 card is 5.5 x 4.25 whereas a slimline card typically measures 3.5 x 8.5. I have seen slightly different measurements online, but the slimline card is made to fit in a #10 standard envelope.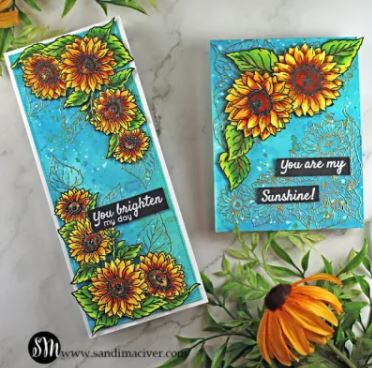 Pros And Cons Of Making Slimline Cards
Pros
Wy are crafters loving this card trend? One of the great things about making slimline cards is that they offer the maker more creative space to fill. This allows for a larger creative canvas to work on like being able to create an entire scene on a card front. The use of a bigger sentiment space is also another benefit that card makers are enjoying with this trendy card size.
Unlike other non-traditional card sizes (6×6 or 5×7), slimline cards use a #10 standard envelope that doesn't require extra postage. That's a big plus for creating these unique cards.
I believe one of the biggest things that are helping to promote this specific trend is the many new products being created by retailers that are dedicated to using with slimline cards. The creation of slimline dies, dies, and stamps has provided a huge opening in the paper crafting market to offer all of us crafters SO MANY MORE fun products to purchase and play with.
Of course, any of our current cardmaking supplies work perfectly for slimline cards as well.
Cons
As we know a single piece of cardstock yields two A2 cards. I'd have to say that the only con I see for creating slimline cards is the fact that I am only able to get one card base out of an 8.5″ x 11″ cardstock. Of course, the piece of cardstock that is not used for the card base can be used for other crafting purposes.
Thankfully, pre-cut slimline card bases are readily available from the craft companies which might be a wise purchase if you can get them at a good price point.
Getting Started – Making Slimline Cards
An online search of slimline cards could bring hours of research materials to find out how to make these unique card projects. There is no shortage of inspiration available for making these cards, but as you can imagine you could easily get caught up in an endless rabbit hole that would suck up hours of time.
If time is not an issue for you, then I do encourage you to take some time to look at many of the amazing card samples and insights that you can find online. Just type in "slimline cards" in your favorite search engine or on Pinterest. Guess what? Yes, I have a Slimline Card Pinterest board as well (smile).
As you may know, I personally like scouting the internet and looking for inspiration on all kinds of creative projects. I did some research for any blogs that might offer good insights and tips for getting started in creating slimline cards.
I especially appreciated the work that Sandi from sandimaciver.com put together on her blog. She has put together a pretty comprehensive tutorial on how to make slimline cards that I recommend to you.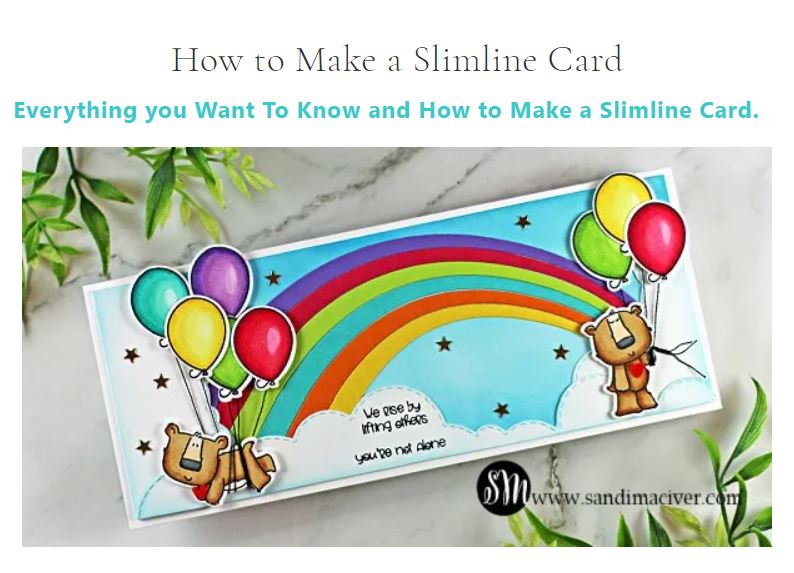 Sandi goes into detail about all the basics you need to know if you want to learn how to start making these fun cards. In her blog post she covers these basics:
What are Slimline Cards?
WHY is everyone making Slimline Cards?
What size are slimline cards?
Measurements for a Make a Slimline Card Base?
How much postage is required for a Slimline Card?
What size envelopes are needed for Slimline Cards?
Where can I get dies, stamps and other cardmaking supplies to make slimline cards?
Why are Slimline Cards so Popular?
What supplies do I need for Slimline Cards?
Additionally, she has many card samples that will inspire your creativity.
Mini Slimline Cards
Wait…there's more? Yes, mini slimline cards are a real thing. As Sandi puts it, Mini Slimline cards are the smaller cousin of the larger and longer slimline cards.
Thankfully, Sandi also provides a well-written tutorial on the mini's as well.
I hope this scouting find is helpful and inspires you to create.
Enjoy and Happy Crafting!