In my lifetime, I have to admit I have found myself in many a meeting and or workshop trying to stay attentive and then my mind and attention span simply started to wander away thinking about anything other than what I was supposed to be listening to.  Admittedly this has happened to me if the topic or speaker has been agonizingly boring as well as a a topic or speaker I was truly interested in listening to. When my mind has had enough and is tired…it just turns off.
If correct, I'm pretty sure you may have experienced something similar, correct?
So when this happens, we instinctively look for ways to stay awake and find that our hand begins scribbling random things on a piece of paper in front of us? Right? Doodling can indeed help keep us from falling asleep, or keep us from staring ahead when our brain and attention span has turned off.
Generally a Doodle is a rough drawing or a scribble we do absent mindedly.
Doodles are simple drawings that can have concrete representational meaning or may just be composed of random and abstract lines, generally without ever lifting the drawing device from the paper, in which case it is usually called a "scribble".
Doodles are created in a variety of different styles such as Mandalas, Doodle Art, Zentangles, and Zendoodling. Each style or type has its own specific characteristics and forms and all are equally beautiful!
Doodling is the easiest way to reconnect with your creative side. It's fun, easy and cheap. You can do it anywhere, even if all you have is a pen and scratch paper. But it does more than just stimulate you artistically.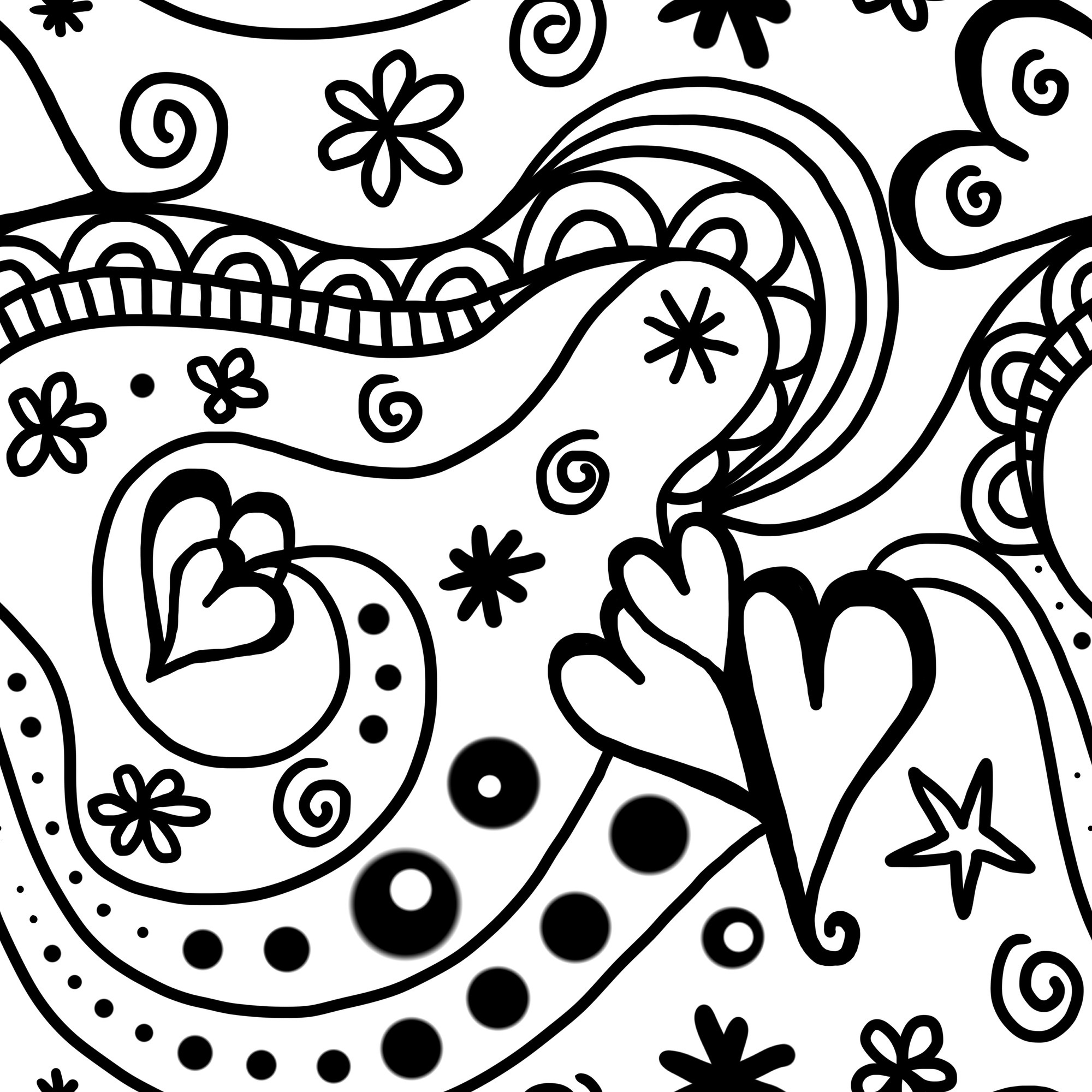 7 Benefits of Doodling and How to Get Started
Though sometimes doodling can be a last-ditch attempt at staying awake and keep you from falling asleep, studies have proven that this form of fidgeting has real life benefits, not only during those sleepy/boring moments, but also in your day to day life.
Doodling has been proven to relive stress and tension. It also improves memory and can make it easier for you to focus. Best of all, it can leave you feeling relaxed and revitalized.
In her blog, Marelisa from Daring To Live Fully, states that:
Doodles are spontaneous uncensored marks that are made quickly and can take many forms, from abstract patterns or designs to images of concrete objects. However, these marks are far being the mindless scribbles of a distracted mind. Doodling has cognitive and emotional benefits.

7 Benefits of Doodling
Doodling Helps You Concentrate.
Doodling Can Help Spur Creative Insight.
Doodling Can Help Process Emotions.
Doodling Alleviates Stress.
Doodling Can Be A Creative Outlet.
Doodling Can Help You Learn Better.
Doodling Helps Big-Picture Thinking.
How exciting! We now have official permission to doodle during boring meetings and long workshops to help us concentrate, alleviate some stress, and help us to learn. LOL!
Learning some basic doodling techniques can help make your doodling time more enjoyable. Below are some tips that Marlesa (mentioned above) shares on how to get started doodling.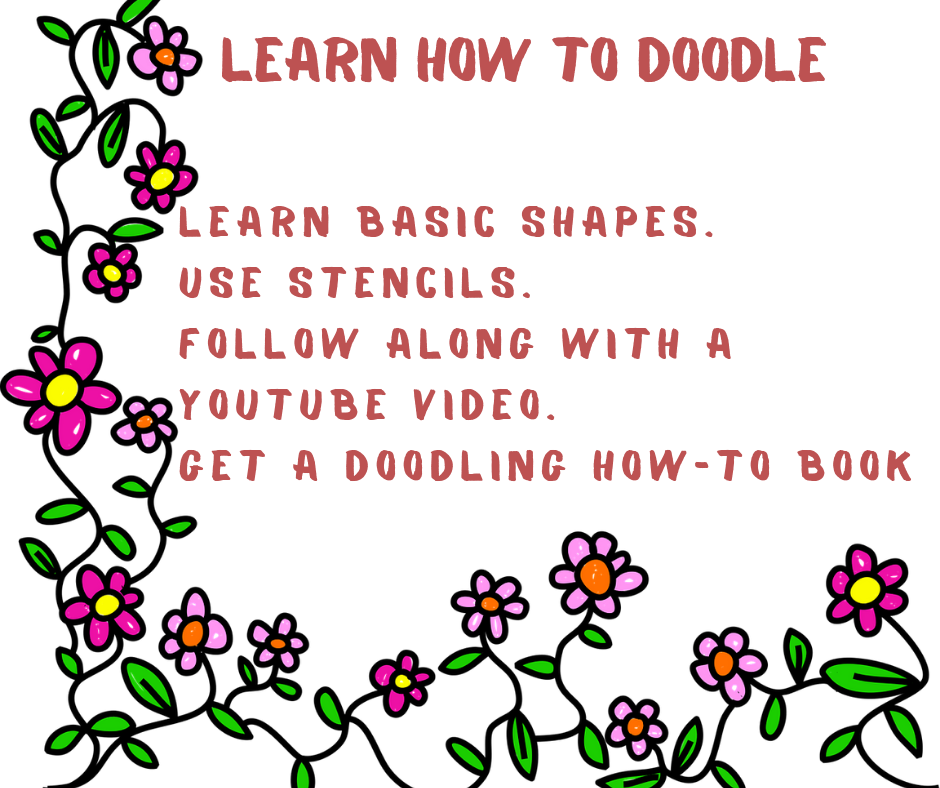 How to Start Doodling
Learn the 12 Basic Shapes. 
Use Stencils.
Follow Along With a YouTube Video.
Get a Doodling How-to Book (see list below).
Choose Books to Guide You
When it comes to doodling, you can grab a sheet of paper and start right now. But it can also be helpful to use doodling books. These are books filled with designs and doodles that will inspire your own pen.
The Notebook Doodle Go Girl! activity book is a written for the tween in mind, but I feel there are some really good things that the novice doodler of all ages can learn. Combining lettering and simple outline drawing art doodles can offer a great creative outlet. Think about learning to doodle letters and combine them with fun flowers and color them with bright joyful colors and add them to a card front. This would be a wonderfully creative way to share joy with others as well as yourself.
You can learn how to mix and match different patterns to create stunning images. Begin with a book like Zentangle by Jane Marbaix or Zendoodle: The Art of Mediation through Drawing
Zendoodle: The Art of Mediation through Drawing by Ardely Dorn. If you'd like to commit to doodling daily, then you might like One Zentangle A Day: A 6-Week Course in Creative Drawing by Beckah Krahula.
Use Prompts to Inspire You
Once you've spent some time learning more about the art of doodling, try out a few prompt books. The ideas on these pages will get your hand moving and are simple enough that you can enjoy a quiet conversation or listen to a conference call while working.
A good one to start with is Draw, Doodle, Design by Parragon Books. It contains hundreds of prompts and the high-quality pages are perfect for markers, pencils, crayons, and more. Another beloved title is Creative Doodling & Beyond by Stephanie Corfee. You can practice your doodles inside the book, making it easy to implement each prompt.
Doodle with Different Tips
You can doodle with just about any pen or pencil you want to. But make sure to choose one that has a comfortable grip and doesn't smear as you draw.
A gel pen might have a vibrant color but if it leaks all over your work, it can be upsetting.
You also want to pay attention to the size of the pen tip that you're using. Ultra-fine tips give more control and make your lines thinner, perfect for doodling small objects. Bigger tips will give you thicker lines and can be great for doodling with bold swipes. Get a set of pens with a variety of nib sizes like this versatile Sakura 30062 6-Piece Pigma Micron Ink Pen Set.

Doodling with Purpose
Once you're done with your doodle, don't think you have to throw it away or keep it locked away in your desk drawer. Instead, challenge yourself to use your doodles in new and exciting ways.
You could take the bird you doodled and turn it into a card for a sick friend. Try putting the heart you doodled into your child's lunchbox, along with a quick note. You can even take your doodles and use them to mod podge an old item.