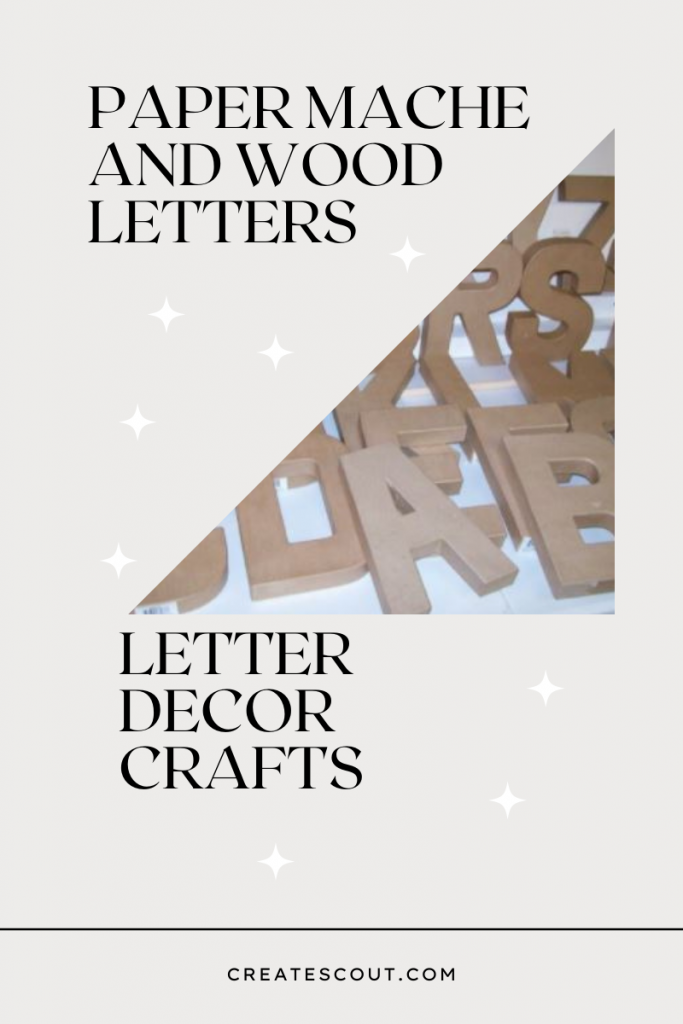 I have several friends who enjoy collecting decor items with the intial of their first name. Though I don't currently have as many of these letters decorating my home I do enjoy walking by and seeing them sprinkled in different areas of my abode.
This trend just doesn't stop with single letters. It has become very poular to see the use of multiple letters combined together to spell out words as well as script inspirational words that have special meanings to us.
These items can be found in many home decor sections of retails stores. They come in many different art mediums like, metal, MDF, wood, cardboard, paper mache and more.
Today I'd like to share some simple ways that you can take either a single letter or inspirational words and create your own home decorating for yourself and for making some amazing gifts.
As I often mention, you could easily spend hours upon hours to find a tutorial that could give you the techniques that will help you with these pieces of art, but I have gathered some video tutorials together that offter some simple techniques to guide you through the process of creating your own.
Let's explore these ideas.
Covering Letters Using Napkins
This first video I'm sharing with you is what inspired this entire post. I was scrolling thorugh Facebook and iniatially saw a snippet of this full video. I shared it on my Create Scout Facebook page and instantly got some great feedback from others who also loved it and indicated they wanted to recreate what they saw. That doesn't always happen, so this made me want to look a bit deeper into the creator of this video.
Deidre from Our Upcycled Life created this video showcasing a super fun way to apply pretty napkins onto MDF script words.
MDF stands for Medium-density fibreboard.
Wikipedia's definition: It's a mixture of sawdust, wax, and glue, which gets heated and compressed into its final thickness. What's left is a smooth, flat, heavy engineered wood product that can be considered environmentally friendly due to it being made from recycled wood products (sawdust and chips).
In a nutshell, after applying the napkin to the word using Mod Podge, Deidre burned off the extra napkin hanging off the edges using a lighter. It's pretty impressive to watch and is indeed a gamechanger for applying a napkin to the word.
This video walks you through the supplies needed and gives a lot of super tips throughout. I encourage you to carve out 11 minutes of time to watch this cool technique.
Note: I initially did not pay attention and thought these were made using paper mache letters, but then re-watched and now realize that the letters that were used for this technique were using MDF letters.
Places To Purchase MDF Letters And Words
Amazon MDF letters and words, and designs
Woodlandmanufacturing.com MDF letters and words
Fabric Covered Letters
These fabric-covered letters can be made using letters made from paper mache, thin wood letters, and more. This technique offers a fun way to cover these decor items. It is mentioned that this is also a kid-friendly project that might be of interest to your kiddos or grand-kiddos.
Strips of fabric and Mod Podge along with your choice of letter along with just a few other readily available supplies will get you started.
Where To Purchase Paper Mache Letters
Amazon.com Paper Mache Letters
Joann.com Paper Mache Letters and Words
Thecraftsupplyhouse.com Paper Mache Letters
Factorydirectsupplycompany.com Paper Mache Letters
Wooden Letters With Printed Paper
This next letter technique uses standard scrapbooking and cardmaking printed papers with wooden letters. Even though this technique is simple, I feel it might take a bit more skill because of needing to use a craft exacto knife. Again, that isn't at all hard to do, but I have found it takes a little bit more practice using an Exacto knife.
These large standing wood letters can be found at craftcuts.com. After viewing this video I was inspired to learn a bit more about these large wooden alphabet letters.
Craft Cuts offers these wooden letters in a variety of font styles. 4 width sizes ranging from 1″ – 4″ for each letter and 9 different height options ranging from 6″ – 14″ in height.
Be forewarned (in a good way) that these letters are not inexpensive. However, the available sizing options and that they are cut to your specifications is something that is unique and isn't necessarily easy to find.
Where To Purchase These Wood Letters
There is a cool checkout system that allows you to order one or more letters and they customize font, letter width, and height. So I wanted to see how much my name would cost with a 1″ thickness, and 10″ height. My name would cost me $52.20.
Now, that might initially seem a bit expensive, but if I was wanting to make a very special word display for a special person, wedding, or anniversary gift this could easily be well worth the cost. Purchasing one letter would be a great addition to your bookcase or fireplace hearth.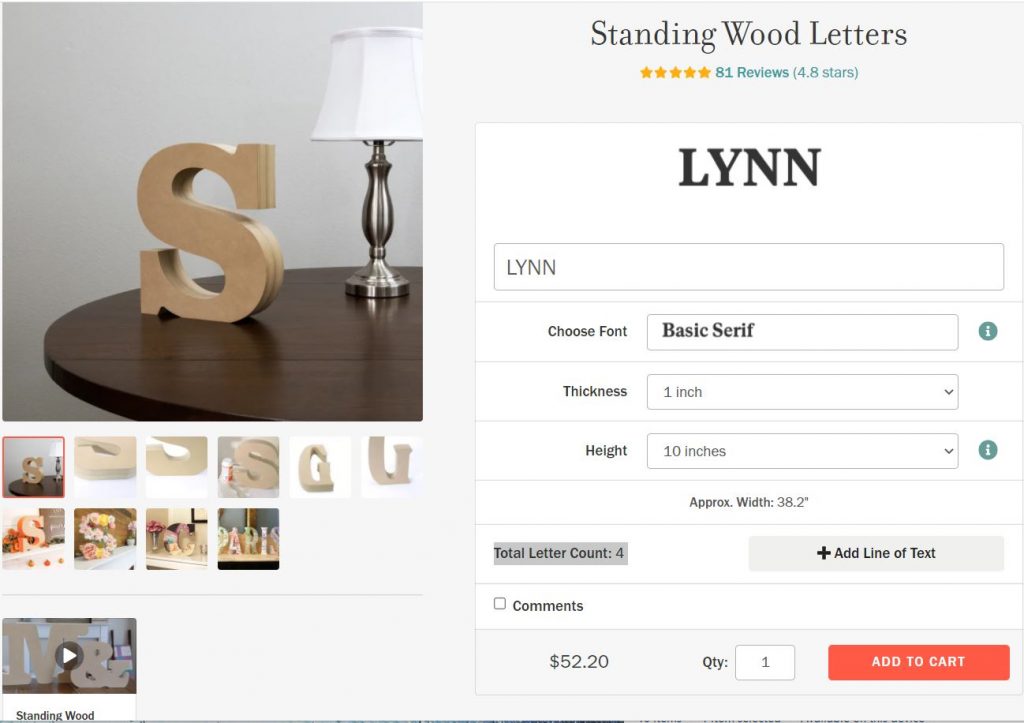 Decorating Home Decor Letters
This next video I have to share with you is simply about offering inspiration using different decorating techniques for the decor letters you want to make. I feel you could easily use hand-cut letters out of cardboard just as easily as any of the other letter products mentioned earlier (wood, MDF, paper mache, etc).
Bonus: Photo Collage Letters (Fun Way To Decorate With Pictures)
Autumn from It's Always Autumn has created a great picture tutorial on how to make photo collage letters that I didn't want to leave out of this compilation of fun projects.
She has done a super job with capturing the details on how to use your photos and adhere them to 12″ letters found at JoAnn's. You will want to be sure to use the larger letters so that you have a larger display area for your pictures.
Check this one out as well. You'll be glad you did. Great way to showcase some of your fave pics.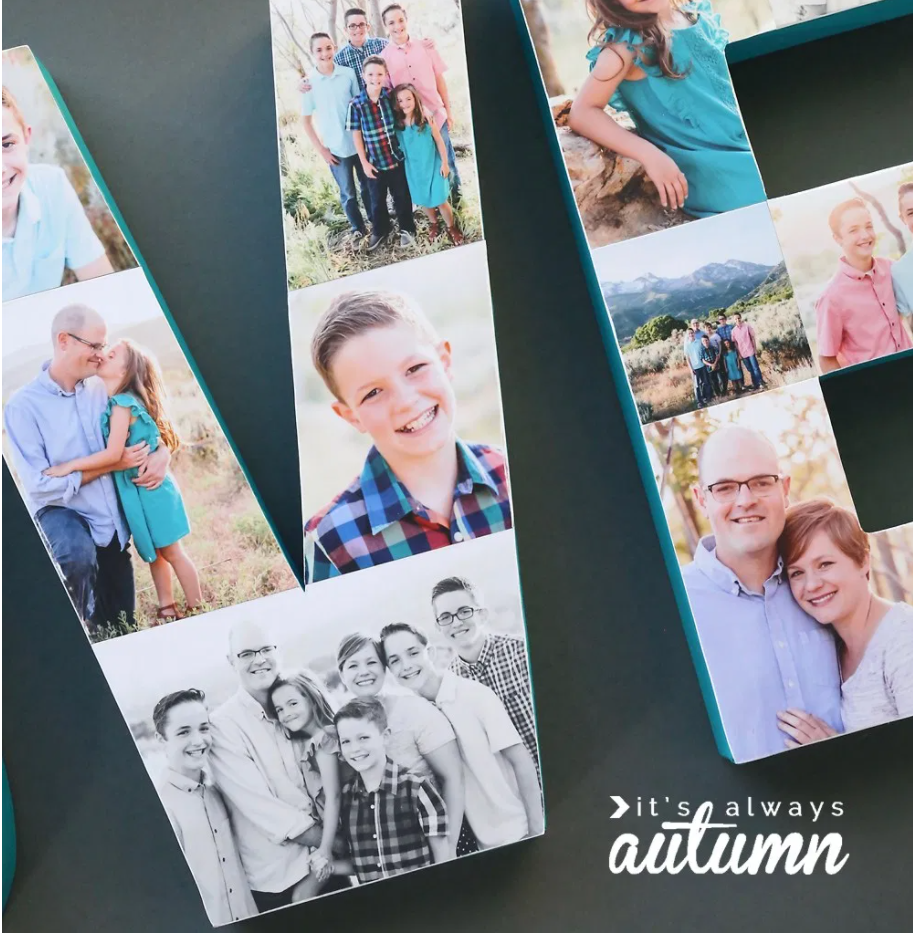 I hope you are inspired to create using the techniques and projects shared above.