Today's post may seem like a very unlikely topic for a crafting blog, but please allow me a few moments to share something I've recently learned about that has greatly touched my heart. At the end of this post, I have a special request on how you can share kindness to others with your special crafting and card-making skills.
A dear friend of mine was recently sharing with me that she is getting ready to make many cards for families who have lost a child at birth or at a very young age. My heart was immediately filled with compassion for this organization she told me about called Heaven's Hummingbirds.
Heaven's Hummingbirds is a non-profit dedicated to remembering parents after the loss of a child.
I am thankful that I have not experienced the harsh reality of ever losing a precious little one, but from what I've learned there is a unique sadness and pain that is experienced by the families that experience this loss during pregnancy and at birth. Unfortunately, this happens more often than I could imagine.
After the loss of their baby at birth, The Butson family experienced all too well that there were no support systems in place to help them through their grieving pain. They felt the tugging in their hearts and whispers from The Lord, to create a support system for others going through this same experience, of grief, pain, guilt, frustration, and all the emotions that go along with this precious loss.
As I was reading a bit more of their story online here, I was suddenly hit with the realization that my precious mom experienced this exact same situation over 60 years ago on the day I was born. You see, I was born a twin and at the very young age of 3 months old, my twin sister, Leslie suddenly died. Without the support of the father who helped create us (yes, that's another whole story, but he's not worth talking about), my mom had to grieve the loss of an infant, take care of me, and my 2-year-old sister, Sheryl. Wow! My heart is heavier and more connected to this special organization than I initially thought.
How Card Makers Can Offer Support
My friend, Amanda whom I mentioned earlier has been making Mother's Day and Father's Day cards for these grieving parents, for several years. This might surprise you but there is a beautiful reason for making cards for these special occasions.
Time has proven that there is often a stigma on how these grieving parents should respond to this heartbreaking event in their lives and how loved ones should interact with them about the loss of these precious little ones. Every holiday brings a new sadness especially during the designated day of honor for moms and dads. Their sadness is often re-engaged.
The Heaven's Hummingbirds group knows the importance of recognizing this loss and the importance of giving well-deserved acknowledgment to these grieving moms and dads.
Every year handmade cards are made with no greeting inside (blank). These blank cards are then handed to other individuals who have lost a child as well but are further along in their grieving process. These individuals write a special message inside these handmade cards sharing love and support and acknowledging that their status as a mom and dad is just as real on that day as it was at the birth and loss of their little angel.
Heaven's Hummingbirds can use your help. Could you make one or more cards that you could then donate to this precious organization and help bring a bit of joy to a few hearts that are still grieving their loss?
Whether it's one or more cards…every single card donation helps.
The card donation guidelines are very simple:
Mother's Day & Father's Day theme Only.
Remember to keep the inside BLANK and please refrain from using "happy" in your sentiments.
All card donations are appreciated!
Mail card donations to:
Dignity Health East Valley Foundation
ATTN: Heaven's Hummingbirds
1727 W Frye RD STE 230
Chandler, AZ 85224
Wanting To Do My Part
I am currently in the process of making cards to share a bit of my heart with those who need an extra hug. Currently, I'm making Mother's Day cards since that is the holiday coming up first. I'll work on Father's Day cards down the road.
These cards were made using free digital prints and sentiment sheets available from The Stamp Doctor.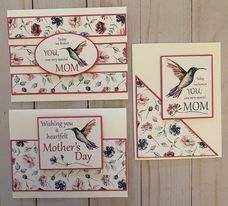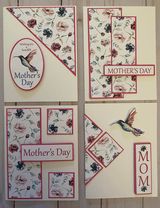 As a donation for this amazing cause, Mechele, from The Stamp Doctor created special papers and sentiments that she is giving away at no cost, to help you make some cards for this great charity/organization.
If you are willing to make some cards and mail them to the organization listed above, please stop by and access these papers at no cost. Note: Mechele has additional papers to select from at a very low price point if you are interested.
Order and download your no cost digital prints from The Stamp Doctor: Heaven's Hummingbirds digital prints
To locate the no-cost digital prints, simply sort the page by price to easily locate them, add them to your cart, and check out.
Your card donations can be made using your choice of papers, but please note as stated above, to not use a sentiment with the word "happy" and leave the cards blank inside.
Amanda got an early start on her card making and has graciously allowed me to share some additional inspiration.
Thank you for taking the time to read this post. If you are able to donate a card or two, I know it will be greatly appreciated.
Also know that your thoughts and prayers for those who grieve over the loss of a loved one no matter what their age, is a gift.
Blessings and Hugs to you!
Lynn