Selecting the right Watercoloring brush pen can truly be a trial and error process that could be costly for someone wanting to venture into watercoloring for the first time. Especially, if they invest in an inferior product or one that doesn't accomplish what they want.
There are so many factors to consider. Thankfully we can learn from expert artists who use these types of tools on a daily basis.
With confidence, I would say I'm creative, but in that same confidence, I don't consider myself an artist. Some people would say that all creativity is artistic. Well, I value the expertise and experience of others so decided to do some research to find quality information to help me make a better decision on which watercoloring product I might want to invest in.
I found a great resource to share with you.
In my research, I discovered Anita HartCarroll from Very Create, who is an artist in many creative areas, especially watercolor painting.
Evaluating Artist Quality In Brush Pen Format
A true watercolorist will typically use direct watercolor pigment inks and specific brushes to paint with. Thankfully the artisan and crafting industry have combined technology and now the beginning and advanced crafter has the ability to use quality watercolor inks in a brush pen format.
Anita shares:
A new invention for artists, illustrators, and craftspeople in the last decade or so are watercolor brush pens. The ingenious aspect of these pens is that you don't need to keep a container of rinse water handy in order to create watercolors!  They so versatile and fun to create with. Everything from calligraphy to coloring to portraiture to landscape painting can be accomplished with the best watercolor brush pens.
Anita's blog post titled 11 Best Watercolor Brush Pens Review in 2021 is exactly what I was looking for. She rates 11 different watercolor brush pen brands on six different evaluation points and then gives them a star rating based on these points. Each of these evaluation points plays a factor in the final outcome of the projects that are created. So being able to select a quality product that is a good value for the price can be very helpful.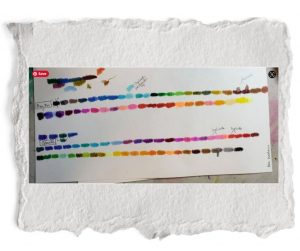 Evaluation Points:
Ability to rewet when dry
Value for price
Consistent brush tips
Vibrant pigments
Useful color selection in kit
Easy release of color ink
Anita provides Pro Tips of things to think about when selecting a brand product to invest in as well as how the different brands work on different watercolor papers.
I believe you will find great value in this blog post about selecting the right watercolor brush pen brand for your next creative investment.