With the Christmas and gifting holidays just around the corner there is so much that needs to get done. Holiday decorations need put up, getting the holiday cards completed and sent out and of course gift shopping. I have found that even if I know what I am gifting to my immediate family and friends there are always times when I want special simple gifts for co-workers, a visit to or from a friend, or for the host when attending a holiday party and other unexpected gifting needs.
One of my favorite go-to crafted gifts are created with Mason Jars. There are so many different ways that these can be used to create quick and simple gifts. They can be used for a variety of gifting themes. In this post I am sharing some ideas that I discovered while scouting around online, that I think would make great gifts that can be put together ahead of time so you can have them readily available throughout the season to give to others.
Disclosure: Some of the links below are affiliate links, meaning, at no additional cost to you, I will earn a commission if you click through and make a purchase.
Christmas Potpourri
First up in this Mason Jar gift giving roundup up is something that will bring the fresh and rustic aroma of Christmas into the home without the full fuss of baking dozens of cookies to give away (however, there ain't nothing wrong with a delicious batch of cookies, don't ya know).
The details for this yummy smelling gift can be found at Yellow Bliss Road. Kristen, the founder of the site also provides an adorable printable that you can print out at now cost. I believe this is a unique gift that would be greatly appreciated to bring festive cheer to those who receive it.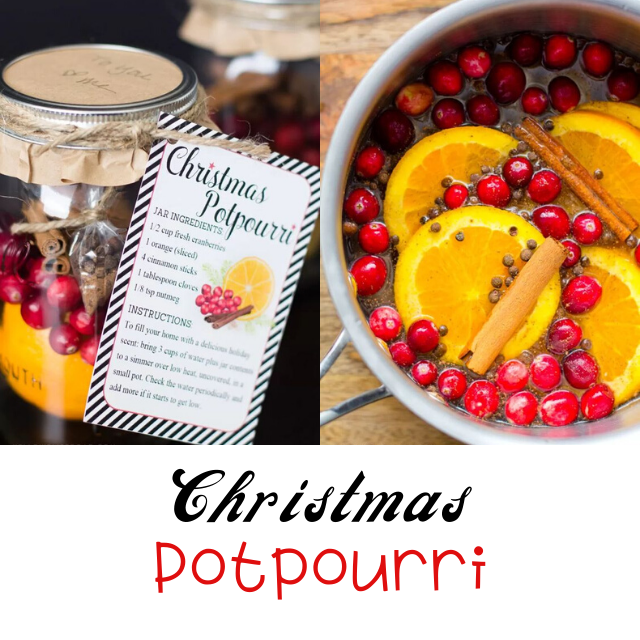 Mason Jar Candy Wraps
This cutie was added to the list because it showcases a quick and easy gift that doesn't take a lot of time to make and readily have available when needed. Laura from momenvy.co also provides fun printables that you can print and add to your creations. Though these don't necessarily showcase as a Chritmas time gift due to the color scheme, simply pick up Christmas colored candies and a ribbon around the jar lid/neck to give it more of a holiday themed present. To make these a little bit more budget friendly due to the price of chocolate, consider using smaller jars. The thoughtfulness of this simple gift will be well received, because, well who doesn't like having a bit of chocolate when the craving arises.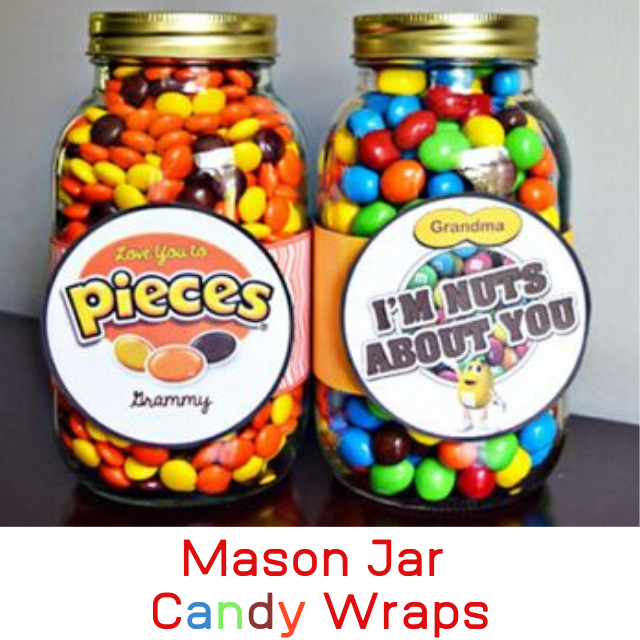 Winter-Fresh Air Freshner
Just the thought of smelling the Wintery Freshness of this air freshner brings happiness to my smell buds. Though this particular project may take a wee bit more time to prepare, I think the end result will be welcomed by anyone who it's gifted to. These freshners are made with essential oils so I imagine the aroma will be amazing. It is mentioned that because the oils aren't being diffused they are best for using in smaller areas to be most effective.  I would suggest that you make a little tag to add to the jar with the simple tips on how to best use these and refresh the aroma as needed.
Melissa from Shaken Together Life shares all the ingredients needed to make these scented jars. Make sure you click on the additional link that also gives you an idea on how to make a Cinnamon Orange freshner as well.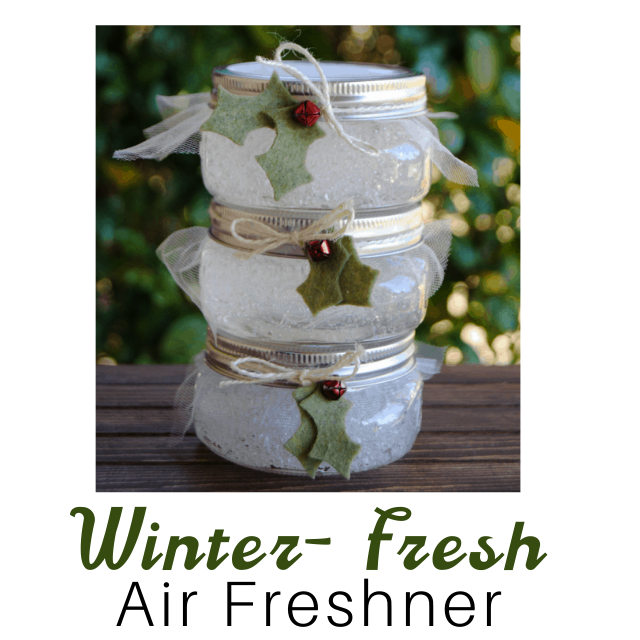 Source: www.shakentogetherlife.com
Gift Card and Candy Holder
This idea is more of a unique way to wrap a gift card using quilted mason jars. I think this is a fun way to tease the gift inside. As you can see this takes two separate smaller mason jars, which will add cost to the gift, but, wouldn't this be a fun way to wrap and give this to a special friend? I know I would giggle with excitement if this was presented to me.
Jen Causey from Something Turquoise provides step by step pictures as a tutorial on how to create these adorable gift card holders.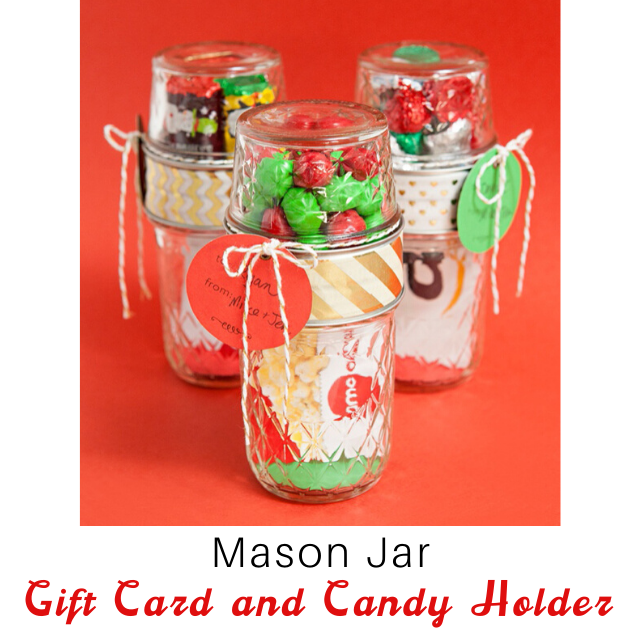 Gift Jar For Scrapbookers
This showcase of ideas wouldn't be complete without a gift jar for crafters. The adorable jar showing below was created using scrapbooking supplies, but of course could be re-created using a variety of craft goodies pending the receivers craft of choice.  I love this idea, because it could easily be created using basic craft tools supplies from your own stash that you could gift to a fellow crafter.
Michele from The Craft Shoppe Blog offers simple tips on putting this fun gift together. She indicates that a special lid was used as a replacement for the standard mason jar lid, but has a link to another post on how you can add a little bauble and create a unique jar lid.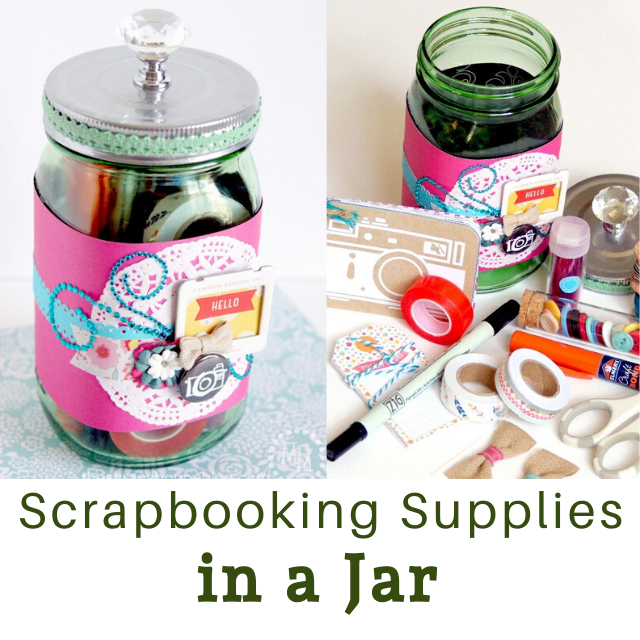 Hoping these ideas will inspire you to pick up some Mason Jars and create some gifts that you can make ahead of time so you can be prepared for unexpected guests or make those intentional gifts for loved ones.
Wishing you a Wonderful Holiday Season!